Showers
Sinks
Tubs
Pets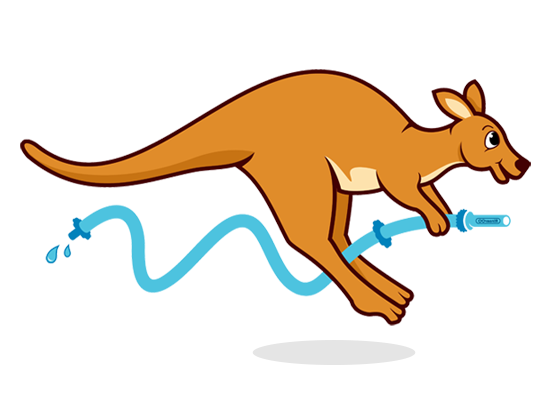 At Rinseroo, we create problem solving tools for your home and our products are designed to make your life just a bit easier. Our patented slip-on connectors stretch up to 10 times their original size and instantly convert showerheads and faucets into rinsing, cleaning and bathing machines! Our customers love the no-install design and use them all around the house.
Rinseroos are not only fun to use, you'll also find that they are effective and efficient! There are so many things that you can do with Rinseroo products! You may love the fact that you can clean the shower without getting wet or that you can bathe your dog whenever you please.
Say goodbye to the messy and backbreaking chore of rinsing your shower walls or pet with a bucket. We challenge you to "Kick the Bucket" and experience the joy of rinsing with a Rinseroo!
Easy slip-on, slip-off design
Fits most shower heads, spigots and faucets
Lightweight, compact, portable (fits in your cleaning caddy)
Mid-hose connector allows quick conversion for sink use
Moves from shower to shower with ease
No installation required
Rinseroo
is making headlines!


College Student, Tallahassee, FL
I love cleaning my showers with the Rinseroo! I used to use a bucket which was really annoying!


I have a handheld shower in my master bath but always had issues rinsing the shower in my spare bathroom. I didn't want to spend the time or money installing another handheld. I got a Rinseroo. Problem solved!


I used to spray cleaning solution on the walls, scrub, and then use my hands to splash water on them. It's a huge timesaver and works great.

Rinseroo products temporarily attach to your shower head or faucet via a stretchy connector and you can change the hose length depending
on your needs. You can shorten the hose for use in a sink or lengthen it to bathe a dog, The hoses easily attach and detach.

Slip the Rinseroo over the showerhead or faucet BEFORE turning on the water.


Pull the stretchy connector up over the showerhead or faucet as much as possible.
The Rinseroo works best when the water from the showerhead or faucet is streaming directly into the hose.
Turn the water on.
Rinse away!


Detach bottom of the hose from the mid-hose connector.
Slip stretchy connector over sink faucet.
Roll the connector down over itself until you have a snug fit.
Turn on water and rinse.
Reattach bottom of hose when needed for other tasks.