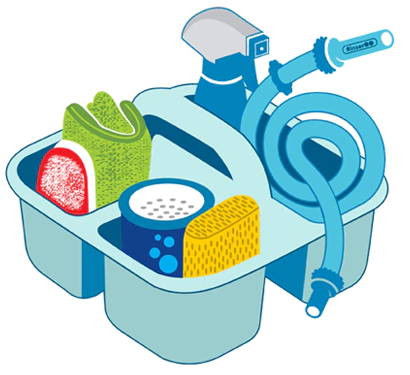 We know how much you love a squeaky clean shower and we also know that rinsing them is one of your least favorite chores.
Our mission is to help you rinse and clean your shower walls, tubs, pets, or whatever needs rinsing more quickly and easily than ever before. Simply slip-it-on, rinse, and then move on to the next shower, sink or tub. You will be amazed at how much time it saves and how well it works.
You'll never rinse with a bucket again!

College Student, Tallahassee, FL
I love cleaning my showers with the Rinseroo! I used to use a bucket which was really annoying!


I have a handheld shower in my master bath but always had issues rinsing the shower in my spare bathroom. I didn't want to spend the time or money installing another handheld. I got a Rinseroo. Problem solved!


I used to spray cleaning solution on the walls, scrub, and then use my hands to splash water on them. It's a huge timesaver and works great.